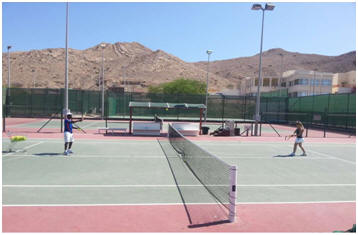 RAHRC Tennis Club is a membership based club situated in Muscat. We are (probably) the largest tennis club in the Muscat area with around 500 active members. Despite our size we are a friendly and inclusive club with plenty on offer for everyone, no matter what your age or ability.
Our facilities are welcoming and comfortable all complemented with a beautiful ocean view few meters away.. Our six hard courts and one indoor facility is arguably one of the most picturesque facilities in the Middle East.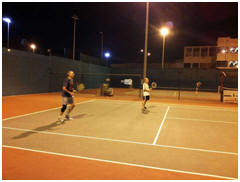 We run a wide range of competitions for all abilities, and our excellent coaching staff run courses all year round for those looking to improve. We run coaching courses for children from age 4 upwards.
However, life isn't just about the tennis! RAHRC Tennis Club has a thriving social scene, you can always find a friendly face in the club and we organize weekly social evenings and tournaments for adults and kids. The club is a great place to meet old friends and make new ones.
The Tennis club provide professional coaching organized, competitions, social tennis, school holiday programs and free court booking services